Lesson 12: Advising and Career Planning
---
Attention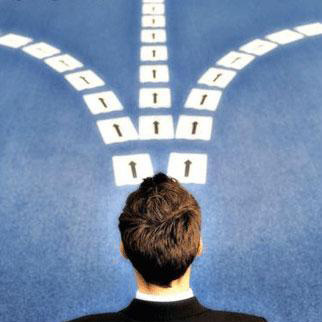 Starting college can sometimes lead us to recognize that there may be MANY paths we can follow.
Sometimes we change our course when we learn about new opportunities!
---
Learning Outcomes
Upon completion of this lesson's material, students will be able to:
Identify the three steps associated with "Planful Career Decision Making"
Identify personal preferences and skills utilizing the Holland tool
Apply the Holland types to career selection
Utilize career related web sources to research information related to career choice
Explore the choices for accomplishing your academic goals at KVCC
---
Teaching
Click HERE to review the Lecture Notes
Read the following editorial entitled "Liberal Arts Education: A foundation for success"
The teaching of this lesson is an adaptation of a presentation made by Jim Peacock, Director of the Advising and Career Center at KVCC. Click the link below and make your way through this ENTIRE document.
Click here to view the presentation on "Planful Career Decision Making"
Click here to download the PowerPoint file
Click HERE to take a test that indicates your Holland Code
---
Assessment
Lesson 12 Discussion
We are going to use this discussion as a free-form conversation on advising. Explore your career plans, scholastic plans, ask me questions, whatever. You are only rquired to post ONCE in this discussion.
Lesson 12 Assignment
See the separate instructions for this assignment located in the Lesson 12 folder.