---
The Discussions tool allows you to create asynchronous bulletin boards that members of the class can use to interact with one another. Many feel the the Discussion boards of an online class are the "heart" of the class. They can serve many purposes.
You may post discussions to:
provide students with a way to socialize and get to know one another
provide students with a way to post questions about the class or an assignment
provide students with a way to work on class topics as a group
measure student understanding and participation in the class with graded discussions
Regardless of the purpose of the discussion it is vital that you be clear in your instructions as to what you expect from your students.
Do you want it to be casual or formal?
Do you want participants to post a certain number of times?
Does the discussion have a date at which it will close?
Do you want the students to accomplish specific goals?
How will their participation be graded?
You can add the Discussions tool link to the Menu or the Content section. When you add this tool to any place in your course you will have to option to have the link go to a list of ALL the discussions in your class, or to just one of them.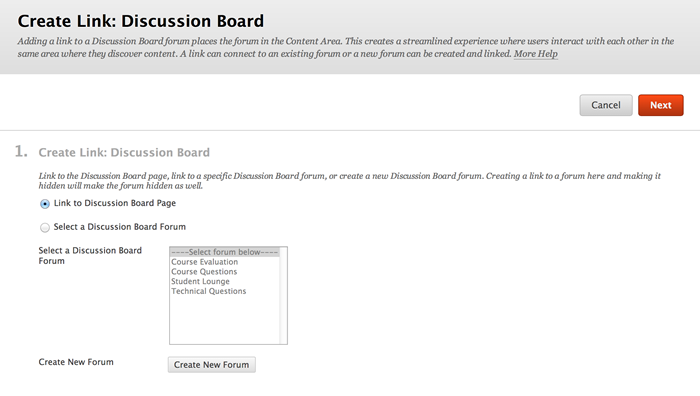 The Discussion Board tool allows you to create a link to all the discussions, or you can select one of the discussion boards you have already created.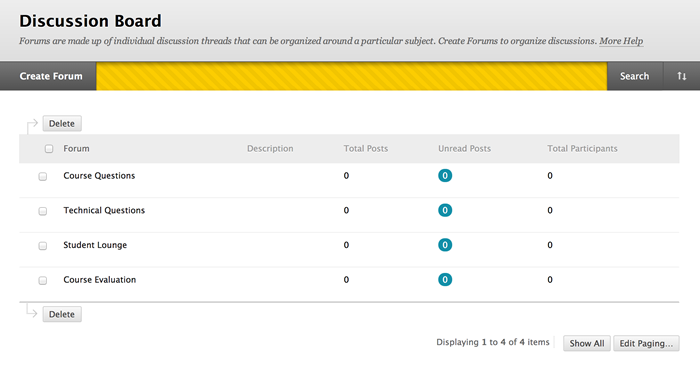 A link to ALL discussion boards in a class will take you to a window like this. It is likely that you will include a link to all your discussions somewhere in your class so that you can manage your discussions better.
---
Posting in a Discussion
Clicking on the title of the discussion will bring you to the forum itself. You can them read messages that others have posted and post messages yourself.

In this example, the Social Science Chair (me) has posted a single message using the "Create Thread" button.
The "Display" button allows you to choose if you want to view different sub-sets of messages...like "unread" messages.