---
REMEMBER, YOU WILL NEED TO ACCESS A COMPUTER IN ORDER TO SET UP YOUR ACCOUNT AND TO MANAGE YOUR RECORDINGS.
USE THE LINKS BELOW TO DOWNLOAD THE APP FOR WEB EX
---
The following screenshots walk you through the process of setting up, conducting, and recording a meeting using the WebEx App on an Apple iPad.
This screenshot shows the icon for the WebEx app on the iPad.
---
Opening the app brings you through a series of introduction slides.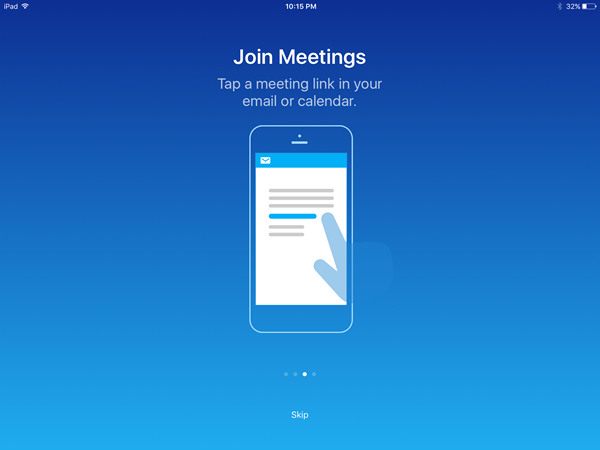 ---
You can schedule meetings from the app or through your online account with WebEx.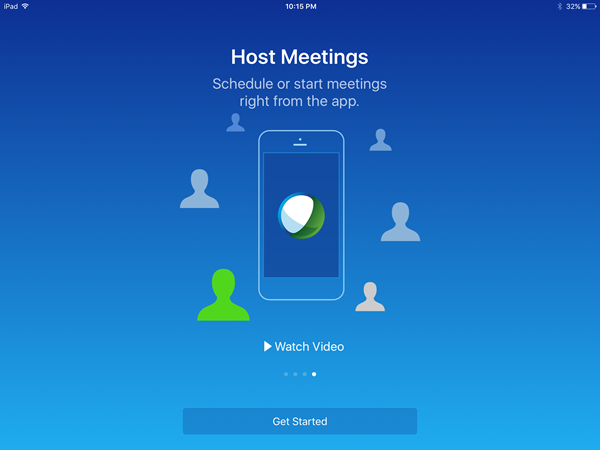 ---
Sign in to your WebEx account that you set up online.
---
This screenshot shows that the app is logging me into my account.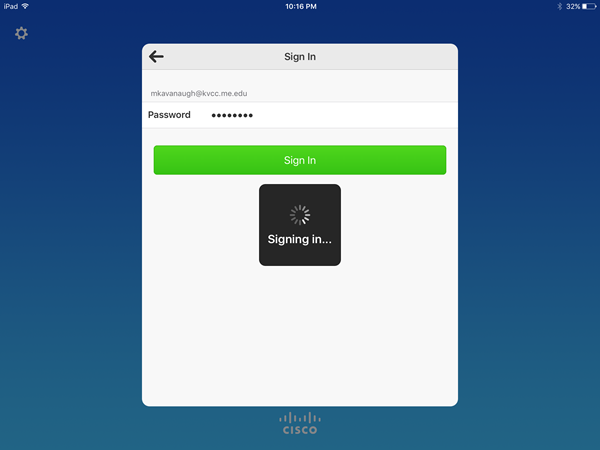 ---
This is the basic interface of the app...select the "+" sign to create a meeting. You can "meet now" or schedule a meeting for another time.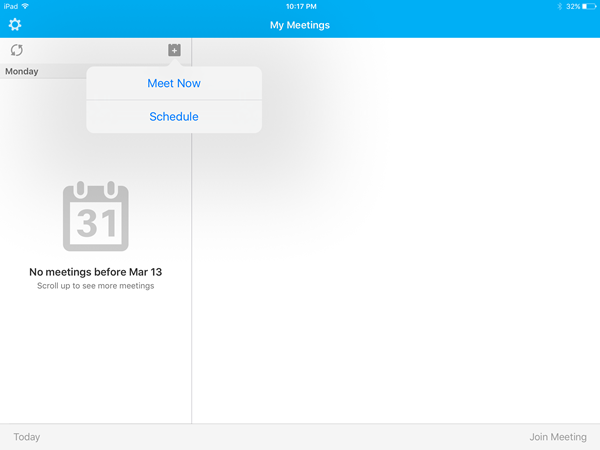 ---
I've selected that I want to schedule a meeting. In this interface you want to insert the email fo the person you are going to meeting with. The email needs to be the one they used to create their account in WebEx.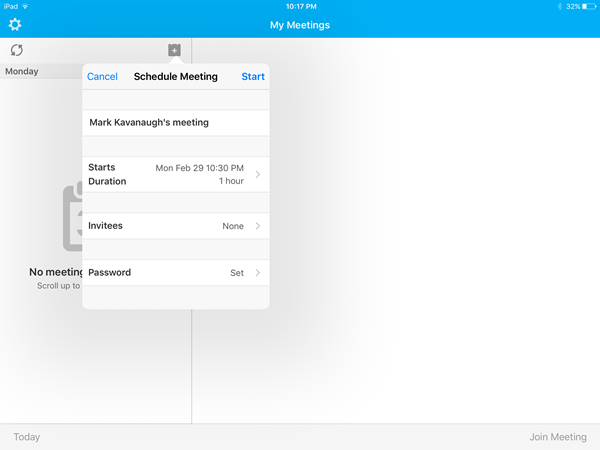 ---
This is the screen you get when you are connecting to a meeting.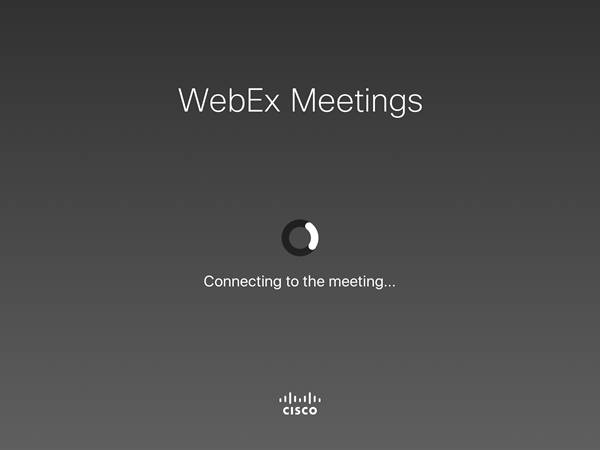 ---
WebEx tehn asks to use the Internet to connec to audio....select "Connect Using Internet"
---
WebEx now wants to access my internal microphone on the iPad.
---
WebEx now wants to access the camera on my iPad.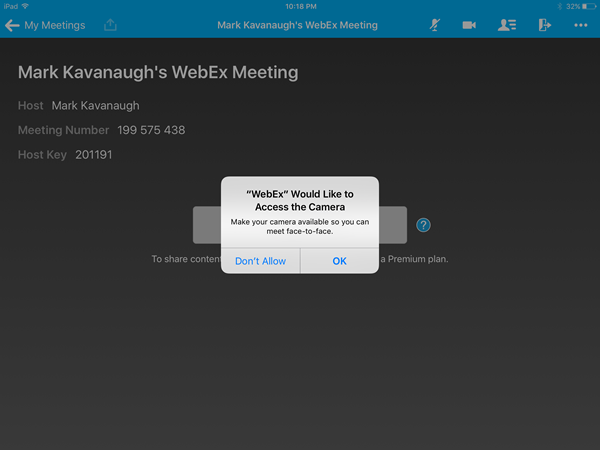 ---
You can see how you look before you "Start My Video"...once you select "Start" your video will start streaming to the other people in your meeting.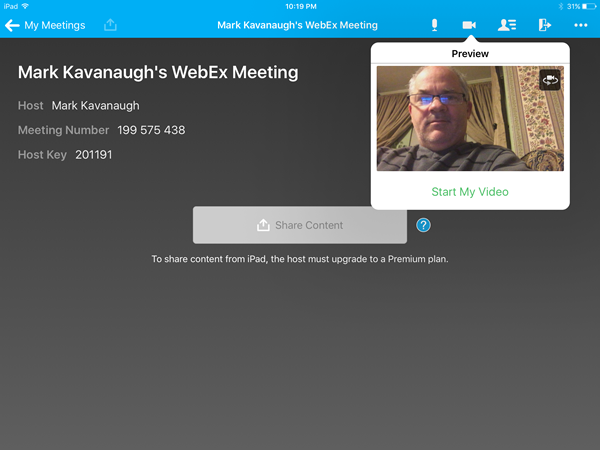 ---
This is what the meeting interface looks like...if there was another person in the meeting they would have a small screen next to mine.
---
Selecting the three dots up at the right top corner will bring up additional settings including your buttons to start recording.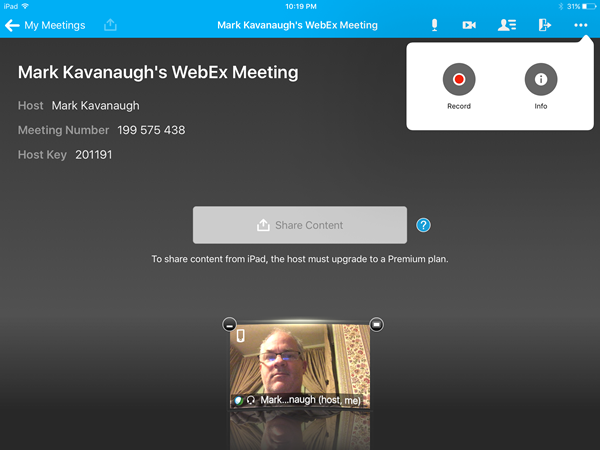 ---
This screenshot shows the iPad in portrail orientation.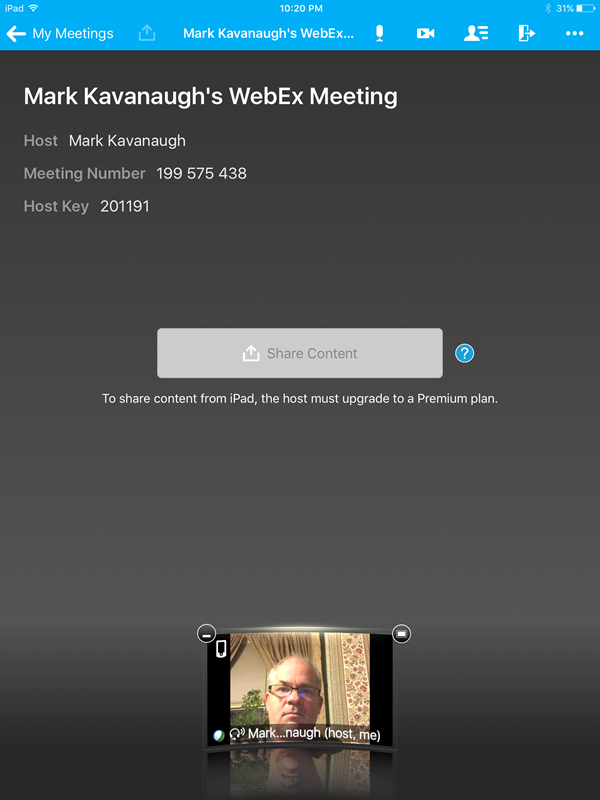 ---
Clicking the little door will bring up the option to end the meeting (or leave the meeting if you did not start the meeting)
Recorded files are saved automatically and can be accessed through your online account. You cannot view recorded videos on your iPad, that is a limitation of this app. You will need to review and manage your recordings from a regular computer.