Writing Across the Social Sciences
---
Writing Essays
Nearly everything you might write in a social science class is an essay of some type. Everything from a discussion post to an answer to a question, to a research paper.
When you read excellent writing you know it. It is clear, concise, and it leads you, the reader, through the thought process of the writer and when you are done...you understand what they are talking about.
It is critical that you develop good essay writing skills in the Social Sciences.
---
My favorite model for essay/paper writing is as follows:
You start out introducing the topic in general terms and then gradually work your way toward the thesis...this first part should show the reader why your question is important
The "thesis" is your actual research question.
You should then present your arguments/research/data that support/refute/answer your question
You should then bring the reader back to the question (the recapitulation of the thesis)
Then work your way out again towards general information and/or the practical application of your answers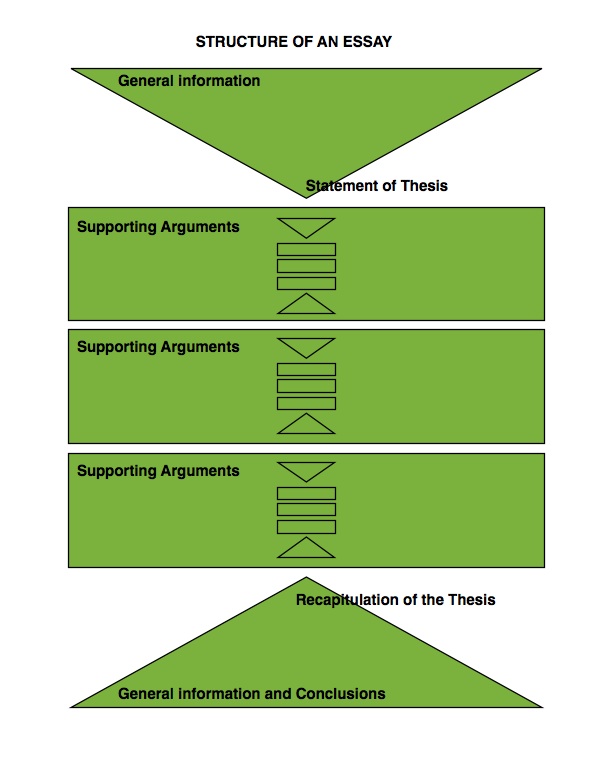 ---
Resources
Understanding Assignments
The first step in any successful college writing venture is reading the assignment. While this sounds like a simple task, it can be a tough one. This handout will help you unravel your assignment and begin to craft an effective response. Much of the following advice will involve translating typical assignment terms and practices into meaningful clues to the type of writing your instructor expects.
Writing Essay Exams
At some time in your undergraduate career, you're going to have to write an essay exam. This thought can inspire a fair amount of fear: we struggle enough with essays when they aren't timed events based on unknown questions. The goal of this link is to give you some easy and effective strategies that will help you take control of the situation and do your best.
The 5-Paragraph Essay
A classic format for compositions is the five-paragraph essay. It is not the only format for writing an essay, of course, but it is a useful model for you to keep in mind, especially as you begin to develop your composition skills. The following material is adapted from a handout prepared by Harry Livermore for his high school English classes at Cook High School in Adel, Georgia. It is used here with his permission.
How to Write a 5-Paragraph Essay that will Amaze Everyone
Did you know that you can effectively unleash your creative capacity and astonish everyone with your talent by creating just 5 paragraphs? Writing a 5-paragraph essay can be easier and faster than baking a 5-layer cake if you know the secret ingredient. Keep reading to get to the essence of 5-PE mastery.