Teaching Online: ALOTA Part 3: Teaching
Click here to go back to the Menu

---
Attention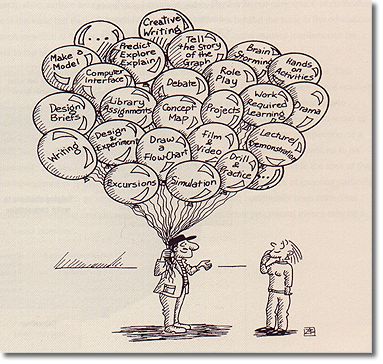 Teaching is what YOU the instructor, does in an online course...but, of course, it is different that other types of teaching in a traditional classroom. We will look at those differences here.
Keep in mind that these last two sections, Teaching and Assessment, sometimes work well together...some Assessments are designed to TEACH and some teaching activities can really be used as ASSESSMENTS.
Take a look at the balloons in the cartoon...there are actually some pretty cool suggestions for teaching and assessment there!
---
Learning Outcomes
Identify appropriate teaching activities related to the Learning Outcomes

Identify key reasons why ongoing faculty participation in an online class creates a sense of community
---
Teaching
This is not a Correspondence Course
Not that there is anything WRONG with a Correspondence Course, but teaching online in the Social Science department is not simply a matter of loading up material for students to read and pressing the "Start" button.
Vital to learning, and to retaining students semester to semester, there needs to be some sort of interaction between teachers and students. In addition to that, you, the teacher, bring valuable information to the student from your own experiences, your own stories, and your own perspectives and thinking processes related to the topics in your class. Teaching is the sharing of these personal aspects of your life, not simply pointing students in the direction of where to find information, what to read...etc.
To that end, in an online class there are a number of ways that you can present material to assist students in learning. Here is what you need to ask yourself when you are preparing material to teach:
Knowing what I know about my students CURRENT knowledge/skills related to the Learning Outcomes, what material do I need to present and/or what activities do I need to have my students engage in, to prepare them for the Assessments that I have designed to measure the Learning Outcomes?
In, essence, my students are on one bank of a stream (current knowledge) and they need to get to the other bank (new knowledge)...what do I use for a BRIDGE?
Types of Teaching Elements
There are basically three different types of content that we include in the Teaching section of the ALOTA Lesson Plan.
Teaching - This is the material that is specifically germane to the Learning Outcomes. It included background information, theory, examples, etc. related to he learning outcomes.

Text - I use the word "text" here to describe any assigned readings. These may be articles, textbook reading assignments, videos, or websites.

Tangents - This is actually a very important aspect of the ALOTA model. Tangents are any materials that are included in the Lesson Plan but are not specifically aligned to the Learning Outcomes. The tradition of teaching has always been outcome oriented but much of teh teaching has been contextualized in other mateiral and environments that ALSO teach. We may not specifically MEASURE these Learning Outcomes but we might find that guiding our studnets to this other material makes their educational experience more rich.
Teaching and Assessment
You will notice in some of the examples below I seem to blur the line between teaching and assessment. Sometimes, depending on the Learning Outcome, we might use graded activities to teach. A perfect example of this is the use of Discussion Boards. While we may have students process information in the Discussion Boards as a way to create new knowledge, we also grade their participation in the Discussion Boards as a form of Assessment.
Teaching Techniques
Below is a short list of different kinds of activities that can be done online to help teach students the material...to build that bridge across the stream.
Two factors arise...consistency across the class and technological complexity
Consistency Across the Class is the argument that a consistent pattern of course activity is valuable in helping students learn. This means that in each Lesson Plan in your course you have students do similar things. You may have them read a chapter, listen to your audio lecture, participate in a discussion board, and take a short quiz on the material.
This consistency, if you follow a similar pattern in each Lesson Plan,may assist students in orienting to the tasks at hand.
On the other hand, there is a fairly good argument to vary the activities in order to keep the class interesting and dynamic. Truthfully, the Learning Outcomes should define the Assessments and the Teaching activities. All the teaching activities should utilize the best, most appropriate, and most workable strategies to assist students in learning.
H3O
As you develop your teaching materials you might consider H3O. H3O represent an approach to how information is incorporated into the knowledge base of the student.
Head - These teaching materials focus primarily on cognitive knowledge and thinking styles. "Theory" is a good example of a "Head" type content.

Heart - These teaching materials focus on ethics and the ways in which the knowledge changes our perspectives, values, and understanding of the world.

Hands - Finall, these teaching materials focus on application. How is the knowledge useful in the "real world", how can we use it in our profession and/or personal lives?

Oh - At this point there is the "Ah Ha" connection between theory, values, and applicaiton of knowledge. This can be either explicitely discussed in the Teaching section or it can be explored as part of the Assessment section.
The Three H's is essentially an optional way in which the content of the Teaching section of the Lesson Plan can be organized. Depending on how you have divided up the Learning Outcomes, not all Lesson Plans may lend themselves to this sort of organization. In addtion, the "Hand" part may be very much like the "Assessment" part in ALOTA.
Technological Complexity refers to the degree to which the Teaching (and sometimes Assessment) components require pre-requisite skills, knowledge, or technology.
It is fair to say that the more complex you make the Teaching the more problems you may encounter! The adage from Alcoholics Anonymous "KISS" (Keep It Simple Stupid) applies fairly well online. For example:
Let's say that you wanted to conduct a synchronous (everyone online at the same time) teaching session and have students use the whiteboard to present material live to classmates. While this is a great online activity it is a complex activity and you may run into trouble with issues such as students schedules, loss of connection during the session, connection speed, the complexity of the white board technology, computer robustness (not able to keep up with the web conferencing software), etc. etc. etc.
The question to ask is this: Is there an easier and less technologically complex way that I can accomplish the same teaching goals?
In this instance, you might consider having students prepare images of their presentations with accompanying text. They can post these into a discussion board where other students can comment on them...if this accomplishes the same teaching goals then it is a less technologically complex way to accomplish these same goals.
The Main Point
The main point is this...Design your teaching to get your students from one side of the stream to the other in the most simple, explicit, and straight-forward manner.
Examples
Here are some examples of different online activities that you can use...remember, these activities are the link between your Learning Outcomes and your Assessments...don't just make your students do work for no reason...pick activities where this connection (between Learning Outcomes and Assessments is very clear...that way students will be more motivated because they know WHY they are doing these things!)
Assigned textbook readings

Assigned article readings

Assigned web site reviews

Audio/Video/Text Lectures (keep in mind software requirements and file size)

Teacher Notes and Outlines (ideally posted as readable documents such as PDF and HTML)

Online Presentations (such as PowerPoint and Keynote---keep in mind software requirements and file size)

Discussion Boards (with active participation by the teacher)

Group Work (be prepared to TEACH your students how to do good group process!)

Links to Online Activities (such as online surveys, quizzes, experiments, or experiences)

Chatroom (remember to consider student schedules and software requirements)

Personal Conferences (these are one-to-one "meetings" online)

Small Group Conferences (similar to one-to-one meetings)
As you can see, and this is certainly not an exhaustive list, there are many things that you can do to provide your BRIDGE!